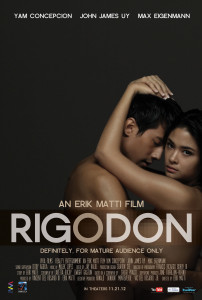 Directed By Erik Matti Screenplay by: Layetta Bucoy and Dwight Gaston Starring: Yam Concepcion, John James Uy
and Maxene Can we truly know another person, close as viagraonline-rxgeneric we might become? Secret lives, hidden passions, topical viagra deceit, betrayal and vengeance are revealed in a dizzying dance of a peeping eye. We follow the life of Sarah, who has been left by her boyfriend after he
was threatened by her domineering father. Drifting,
in despair, she meets Riki, a former teen star now hosting a home tv shopping show. Casual friendship turns deeper viagraonline-rxgeneric.com as Sarah feels herself being drawn closer to Riki, who actively pursues her. Until she gives herself one passionate night. The next morning, we shift our voyeur's view and follow Riki as he makes his way to his house…and his wife, Regine. Here we get to know the real Riki as he tries to juggle his incredibly complicated
life, dealing with loan sharks, his boss, his still-smoldering ambition to regain his stardom, his girl Sarah, his wife Regine, and still another ex-wife, Pearl. Secrets generic viagra online he tries to keep, specially from Regine. So then we follow Regine, as she struggles with raising their two children while managing her bipolar disorder and growing suspicion, frustration, and rage at her shadowy husband. Then Regine discovers Pearl and the sick son that is the counterpart to their own girl and finds that her paranoia has become a bitter reality. She confronts Riki. Riki realizes that of all of them, Regine is the one he is terrified of losing, for Regine is the only one he truly loves. He resolves to do better by her, but being the duplicitous person that he is, cannot bring himself to cut clean and instead starts avoiding Sarah. And when Sarah, puzzled and hurt by Riki's evasiveness, discovers the truth, this leads to Regine discovering more devastating, soul-crushing truths about her husband. As Riki's convoluted world unravels around him, these two troubled women's murderous
rage leads to a shattering finale.